Regular price
$1,023.00 USD
Regular price
Sale price
$1,023.00 USD
Unit price
per
Sale
Sold out
Stock is due mid-September 2023
Experience seamless connectivity on the go with CEL-FI ROAM R41, the ultimate plug-and-play cellular coverage solution designed for nomadic applications. Whether you're embarking on a cross-country road trip, indulging in weekend boating adventures, or managing a fleet that requires reliable cellular connectivity, ROAM R41 is your trusted companion, ensuring uninterrupted voice and data transmission while in transit. It serves as a replacement for the GO G31 mobile systems, offering an instant boost to your coverage in just minutes.
FEATURES
Ideal for boosting mobile signal in a car, van, 4WD, truck, motorhome, caravan or boat.
Support for 3G and 4G

 

– Carrier Approval Still Pending

Suitable replacement for GO G31 Mobile
Supports 700L/850/900/1800/2100/2600 + Band 20 & 26
Latest 4th generation Nextivity proprietary IntelliBoost chip delivers channelised coverage for specific mobile network operator signals
Ease of installation with plug-and-play operation
ROAM R41 boasts enterprise-grade performance combined with a user-friendly installation design, making it incredibly easy to set up and power on. Regardless of whether you're in a car, truck, RV, or boat, this compact solution keeps you connected wherever you roam. Its low-profile design enables discreet installation under any seat, while its rugged frame ensures durability, enhancing both productivity and safety for individuals and mobile devices alike.
Equipped with the cutting-edge 4th generation Nextivity IntelliBoost chip, ROAM R41 features advanced technology utilized in our enterprise cellular coverage solutions. This chip delivers unparalleled signal gain, guaranteeing that you can always make calls, send texts, enjoy your favourite music, and stay on the right route while on the road or water. Offering reliable 3G and 4G connectivity within vehicles, including fleet vehicles, the CEL-FI ROAM R41 is the ultimate solution to address poor coverage issues and enable dependable calling, texting, and streaming while on the move.
Setting up ROAM R41 is a breeze with its plug-and-play operation, allowing you to improve connectivity in any car, truck, RV, or boat within minutes.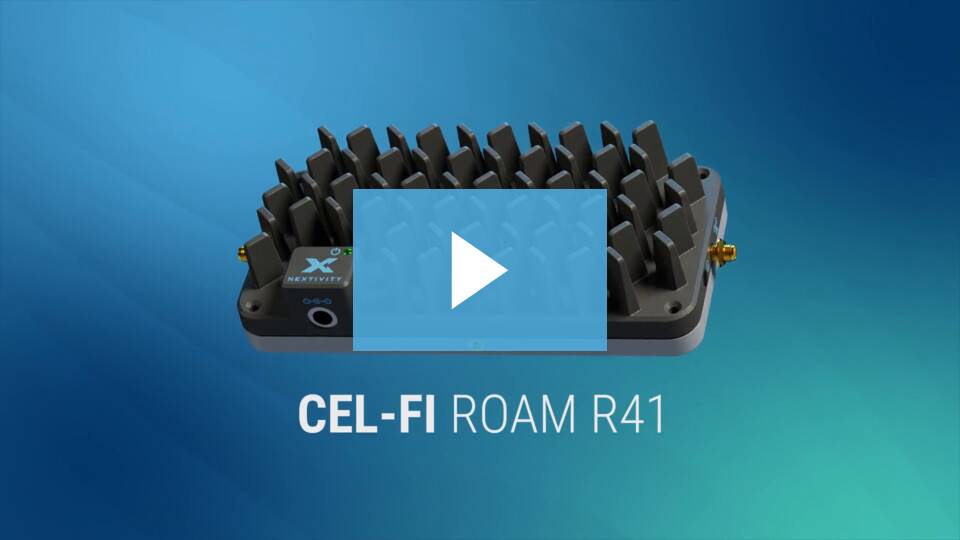 Share
Pop-up link text
View full details